Front Bumper for Chevy S-10 and Blazer with the ZR2 Package and GMC Sonoma Highrider
The bumper is made using a combination of 1/4″ and 3/16″ steel plate. It is ready for use with a winch and has optional features so you can customize your bumper to your needs. All mounting hardware is included.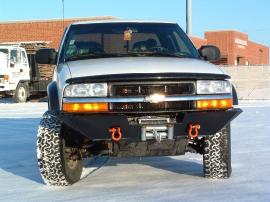 Front Bumper (unfinished metal): $1200
Options: Dual Clevis Mounts: $65 Recessed Lights: $150 Powdercoating: Call for pricing on powdercoating or painting. Pricing does not include shipping charges.