Dual Battery Isolator Kit
The Aedofab Dual Battery Isolator kit comes with everything shown below. It allows for selectable use of your dual batteries for utmost flexibility and only needs to make a minor connection to your vehicle's electrical system. Simply connect to a power source that meets the following criteria: Is on when the ignition is on, and is off at the time of vehicle startup or ignition off. The radio power is a good example.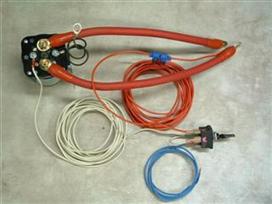 Isolator Kit: $89.95Switch Options: – Charge both batteries while running, disconnect while engine off – Auxillary battery disconnected – Charege both batteries while running, if main battery is dead uses auxillary for starting Pricing does not include shipping charges.