Rear Bumper for Chevy S-10 and Blazer with the ZR2 Package and GMC Sonoma Highrider
The bumper is made using a combination of 1/4″ and 3/16″ steel plate. It comes with an integrated trailier hitch and slots for use with a Hi-Lift jack. Cutting of the rear quarter panels is required, but as you see from the pictures, a massive amount of ground clearance is gained. All mounting hardware is included.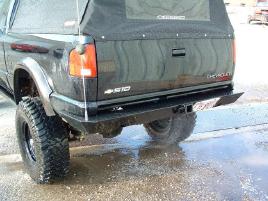 Rear bumper (Unfinished): $1200.00 Call for pricing on powdercoating. Pricing does not include shipping charges.