Front Bumper for Jeep Wrangler TJ
The Wrangler TJ bumper comes as shown below with a winch mount plate, brushguard, and light tabs. The stock tow hooks fit, or we can provide you with some if needed. The bumper is 2×4 steel tube which can be made in any width you desire across the front of the vehicle. It can be drilled and tapped to serve as a bcakup air tank. It mounts diretly to the stock mounting locations, so no drilling or modifcations to the frame or body are required. All mounting hardware is included.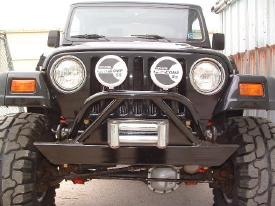 Jeep Wrangler TJ Front Bumper (unfinished metal): $305
Options: Painting: $50 Powdercoating: Call for pricing on powdercoating. Pricing does not include shipping charges.