Dual-Battery Tray for Land Rover Discovery Series II
The dual battery tray is made using 1/8″ steel plate for the tray and aluminum for the battery securing bracket.  It mounts to the stock location of the plastic tray.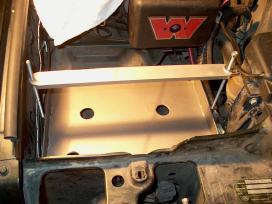 Battery Tray: $175 Includes:
Battery Tray
Securing Bracket
Lock Nuts
Threaded studs
Pricing does not include shipping charges.
Click on images for a larger picture